Promoting via Social Media has many benefits, one of the pluses thats been getting attention recently are the backlinks these social media sites generate and how they effect a pages rankings.
Lets start by first understanding that these backlinks are on dynamic pages, they aren't permanent by any means and will most likely be assigned a
nofollow attribute value
. This doesn't mean the links aren't valuable, however.
Some social media sites create more backlinks than others - Particularly Digg and StumbleUpon seem to generate the fewest backlinks of all online communities in my experience.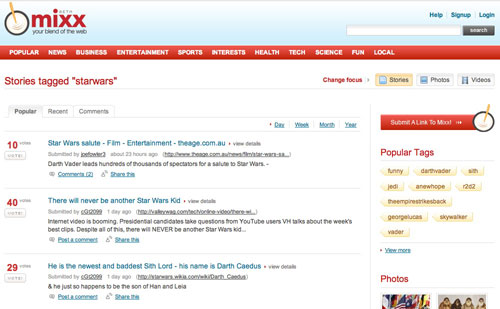 I want to particularly point out
Mixx
, I have been using many different social media platforms to promote this very blog and have seen more backlinks from Mixx than anywhere else. When you submit to these sites it doesn't just backlink it once, it creates a backlink every time someone favorites it, votes it, shares or even comments. Every Mixx group that you submit it to makes multiple backlinks as well. For instance, the recently posted nofollow post linked above immediately saw 226 backlinks from Mixx alone a week after I submitted it.
Lets also call out
FriendFeed
to share some of the glory here. FriendFeed, if you have been living under a rock, is one of the easiest ways to juice your social media presence. It automatically scans your feeds from various social media sites and shares your actions with subscribers while creating an ideal satellite presence for any blog.. In other words - I created an account a month ago and never logged in, sure enough every time I Dugg, Stumbled, Mixxed and blogged, FriendFeed knew about it and created backlinks to the pages I promoted.
I got into FriendFeed because I noticed the backlinks in site explorer from my friends sharing and commenting on my blog. Don't forget the most important part - it gets shared with their subscribers.
But wait a minute - CodeSucker, some of these links you are praising are nofollow and dynamic, FriendFeed backlinks are lost quickly in the vast archives of shares and comments on any 'friends' feed. What's the deal?
Awesome question, like I stated above: These links aren't permanent and while they will help with your optimization on search engines, they all respond differently to the nofollow attribute. Google, for instance, still peeks at the nofollow links destination and is believed to consider it with the surrounding text for relevancy, but not pagerank. Ask.com ignores nofollow and Yahoo will still index the nofollow link target, but not pass trust.
Also, these links are still links on the internet, nofollow or not. Let's have a quick reality check and realize that a link is a link. The internet is built on links, it's how we've transitioned between pages since it's inception. Free inward links are great, especially if they are automatic like these on FriendFeed. Remember the whole point is to get people to notice your site - most link building webmasters and bloggers do keep an eye on their backlinks and will notice your satellite presence if you give them Diggs, Stumbles, Votes, etc. regardless if the link is nofollow.
This is true that traditional social media backlinks don't last very long, in fact if you follow your dynamic links with site explorer, you will notice they diminish over time as the linking page loses significance. Keep in mind that search engines aren't rewarding for the number of backlinks as much as they are rewarding for link velocity. The key here is to not let down your guard and stop working on your site, keep yielding fresh new backlinks often by creating new content and promoting.